Monday, October 5, 2015
A 1950's family get's ready for Halloween.

"Look Out, Shep, that IS a sad sorry scary Jack-O-lantern"

"And the winner? A Lady Scarecrow"



These recipes from a 1959 cookbook are Halloweentastic. I love the thought of gingersnaps but maybe cut out like jack-0-lanterns, you know, the "sad, sorry, spooky" type. And traditional caramle apples could be improved with adding sea-salt and maybe even broken pits of pretzels to roll them in.
I always think of Popcorn balls when I envison vintage halloween. Why not make a vintage presentation but with a more Gourmet Ball?
Pecan Cashew Popcorn Balls
1 c Sugar
1 c Brown sugar; firm pack
1 c Light corn syrup
2/3 c Water
1 lb Butter
2 c Pecan halves; toasted
2 c Cashews; lightly toasted
8 c Popped popcorn
Instructions:
Combine the granulated sugar, brown sugar, corn syrup and water in a
heavy pan fitted with a candy thermometer and place over high heat.
Bring mixture to a boil and add the butter, stirring until it has
melted. Continue cooking until the mixture reached 350~, 20-30
minutes. In a LARGE, lightly oiled bowl, toss the nuts and popcorn
together. Carefully pour the hot syrup over the popcorn- nut mixture.
Carefully, but quickly, toss the mixture with a long-handled wooden
spoon to coat the popcorn and nuts completely with syrup. As soon as
the mixture is cool enough to handle, quickly shape into 3" balls and
place the balls onto a nonstick or lightly oiled baking sheet to
coool. Store, tightly wrapped, in a cool place. Wrap popcorn balls
individually in squares of amber cellophane, tied up with gold or
orange and black ribbon (these are meant for Halloween). Or pile the
balls together into a basket with red apples and wrap the basket up
in cellophane with orange and black ribbon. Or place the balls in a
brown paper bag and tie with a ribbon.
How about some Peanut Butter and White chocolate Haystacks?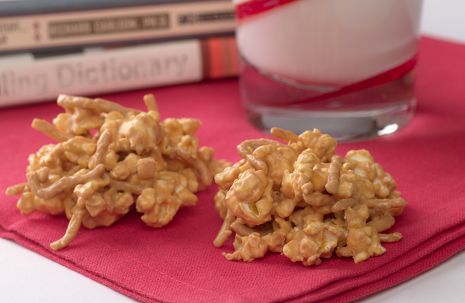 INGREDIENTS
1 bag
popped JOLLY TIME® Healthy Pop® 94% Fat Free Butter Microwave Pop Corn
1/8 cup
white chocolate or almond bark
12 ounces
butterscotch or peanut butter chips
DIRECTIONS
Pop popcorn according to package directions. Open bag carefully and pour into large bowl; discard unpopped kernels. Add chow mein noodles to bowl. In a small microwave-safe bowl, melt baking chips, peanut butter and white chocolate, uncovered, on HIGH (100% power) for 2 minutes; stir well. Pour over popcorn mixture; stir until evenly coated. Drop mixture by large rounded tablespoonfuls onto wax paper-lined cookie sheets. Refrigerate until firm, 1 to 1-1/2 hours. Store in tightly covered container.