A quick post today from Toad Hall. Where we currently live we have dubbed the main house: Toad Hall. This is mainly due to the fact that Hubby was in the midst of re-reading the Wind and the Willows when the house was put at our disposal. It is more 1950's than Edwardian England, but the name stuck. I will be designing a pattern that I am going to print as wallpaper, fabric, and possibly dishes for the place including Toads and Bunnies. My Hubby's Late grandmother who once lived here was called 'Bunny" and this place was, during the 1950's, called "The Hutch". I digress.
The house, by other family members account, has been called 'un-livable' due to its odd dated rooms and long rambling nature. We, on the other hand, love it FOR its idiosyncrasies. And the main bathroom off the long hall is a dream for a 50's gal like me. I shall share a bit of it with you in today's short post.
As some may remember my love of Robin's Egg blue, a very 1950's hue, was apparent during my sojourn into the past. My vintage dishes bore this shade, many of my clothes and even my 1950's telephone, a birthday gift, was in this shade. Therefore the bathroom here at Toad Hall is perfect for me. And I should not change a thing, except the flooring was changed in the 1970's and will most likely be replaced with a 50's style tile when I get around to it.
The walls and ceiling of this bathroom are covered in a vinyl-like melamine in robin's egg blue on the walls and the ceiling a white with gold and blue starbursts. All of the seams of these panels are edged in lovely vintage chrome. Here you can see how they meet and the brilliant starburst ceiling.
The sink, toilet, and bathtub are also in this lovely shade.
And the sink has the original faucets and is also edged in chrome.
There is also a place on the counter which holds the sink a space for a vanity chair, room for make-up and this little chrome and glass wall niche which will hold my vintage perfume and makeup supplies. I am rather excited to have a designated makeup area in the bathroom. As there is a large mirror well lit with wall lights edged in chrome.
Speaking of the large wall mirror.
The medallions which hold this in place are also lovely 50's acrylic starbursts. You have to excuse their condition, we are still cleaning and polishing up our new abode.
Here you can see the entrance to the bathtub and shower area. The sun breaking through onto our vintage melamine walls and the sea just outside the window. You can notice the ceiling light also original cut glass 50's edged in chrome with the original working vent fan.
Again, this may be only loved by hubby and me and other family members think us odd to not rip it out and start new. Now, I am dreaming of lovely vintage 1950's bathroom accessories like perhaps a series of glass fish or toothbrush holders such as these.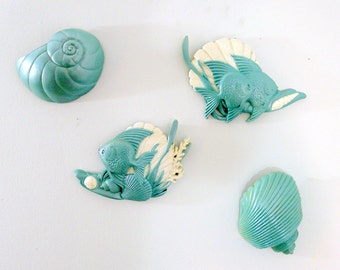 Or I rather like these sword fish: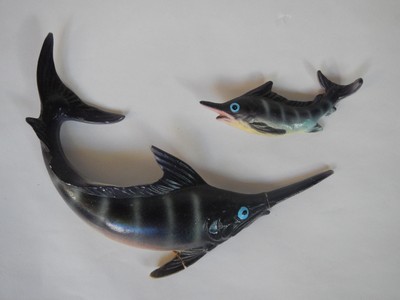 I may even be so bold as to do the floor in high gloss black vinyl and use pink and red-accessories as we see here:
They were certainly not afraid to mix bold colors during this time period
That is my word from Toad Hall today. I hope all are enjoying their new year and wonder if any are making resolutions?